This article discusses new overall design patterns for groups of pages. Any proposed, or experimental styles should be put here so that others can see them and give feedback before they are rolled-out to the real wiki pages.
The current list of page-type designs in use can be seen on the Style Guide. There is also an archive of old design proposals on the archive page.
Tech Tree Experiments
[
]
This wiki currently has no articles for the tech trees of the various factions, which is an important feature that needs to be added.
The most important pieces of information to display are (in order):
The name and icon of the technologies (obviously);
The "tree" itself - which technologies need to be researched before others are unlocked, i.e. antecedents and descendants;
The technology's effects;
Any special costs the research has, such as money or Chivalry;
The time it takes (in turns) to research a given technology.
The tech trees in Total War: Warhammer are fairly complex. Nodes can have up to 8 children (e.g. the Brettonia tech tree), and a tree height of 11 nodes (e.g. the Dwarfs tech tree). It is possible to simply recreate the official layout/design, but it would be incongruent with standard wiki design, which prefers thin articles (though they can be as long as necessary).
Official encyclopaedia style
[
]
From http://whenc.totalwar.com/#/techs/wh_main_brt_bretonnia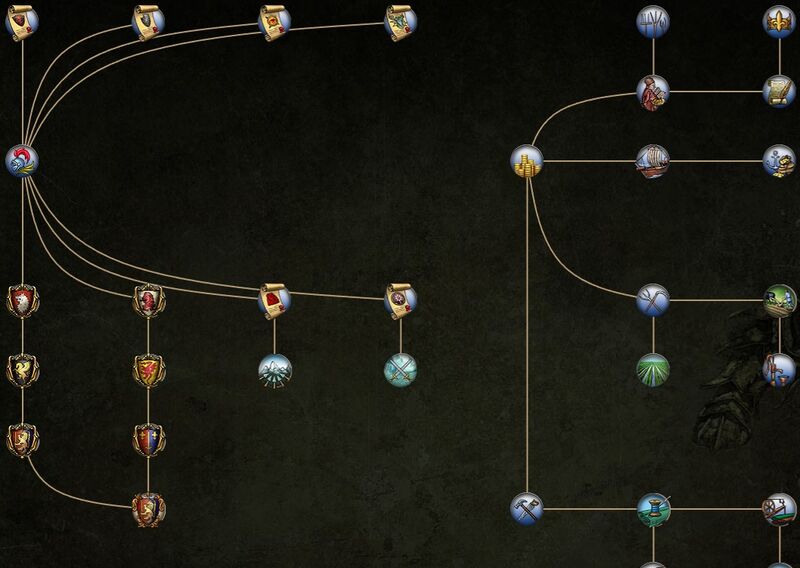 Full-indent style
[
]
Almshouses | Leadership: +5 for Peasant Mob units; Growth: +10 |

 ? turns
Subsidised Tools | Melee attack: +10 for Peasant Mob units; Construction costs: -5% for

Infrastructure

buildings; Recruitment cost: -10% for Peasant Mob Units |  ? turns
Town Census | Unit experience: +2 for Peasant Mob unit recruits; Local recruitment capacity: +1 |

 ? turns

Charity | Chivalry: +20; Public Order: +2 |

 ? turns
Route style (table)
[
]
Soft Outlines
[
]
Economic Upgrades
[
]
Trunk
Fork
Branch
Effect
Cost

Economic Investment
Growth: +4
Income from settlements: +3%
 ? turns
Peasant Upgrades
Port Upgrades
Farm Upgrades
Industry Upgrades
Peasant Upgrades
[
]
Trunk
Fork
Branch
Effect
Cost

Almshouses
Leadership: +5 for Peasant Mob units
Growth: +10
 ? turns

Subsidised Tools
Melee attack: +10 for Peasant Mob units
Construction costs: -5% for

Infrastructure

buildings
Recruitment cost: -10% for Peasant Mob Units
 ? turns

Town Census
Unit experience: +2 for Peasant Mob unit recruits
Local recruitment capacity: +1
 ? turns

Charity
Chivalry: +20
Public Order: +2
 ? turns
Normal Outlines
[
]
Campaign Upgrades
[
]
Trunk
Fork
Branch
Effect
Cost

The Chivalric Code
Growth: +4
Income from settlements: +3%
 ? turns
Heraldry Technologies

Death's Grip Decree

Ruinous Powers Decree

Safer Woods Decree

Forests' Edge Decree

Green Tide Decree

Grey Mountain Watch

Winter Woes Decree

The North Guard
Economic Upgrades
[
]
Trunk
Fork
Branch
Effect
Cost

Economic Investment
Growth: +4
Income from settlements: +3%
 ? turns
Peasant Upgrades
Port Upgrades
Farm Upgrades
Industry Upgrades
Peasant Upgrades
[
]
Trunk
Fork
Branch
Effect
Cost

Almshouses
Leadership: +5 for Peasant Mob units
Growth: +10
 ? turns

Subsidised Tools
Melee attack: +10 for Peasant Mob units
Construction costs: -5% for

Infrastructure

buildings
Recruitment cost: -10% for Peasant Mob Units
 ? turns

Town Census
Unit experience: +2 for Peasant Mob unit recruits
Local recruitment capacity: +1
 ? turns

Charity
Chivalry: +20
Public Order: +2
 ? turns
Indicator Style
[
]
Campaign Upgrades
[
]
T
B
Name
Effect
Cost

The Chivalric Code
Growth: +4
Income from settlements: +3%
 ? turns
Heraldry Technologies

Death's Grip Decree

Ruinous Powers Decree

Safer Woods Decree

Forests' Edge Decree

Green Tide Decree

Grey Mountain Watch

Winter Woes Decree

The North Guard
Economic Upgrades
[
]
T
B
Name
Effect
Cost

Economic Investment
Growth: +4
Income from settlements: +3%
 ? turns
Peasant Upgrades
Port Upgrades
Farm Upgrades
Industry Upgrades
Peasant Upgrades
[
]
T
B
Name
Effect
Cost

Almshouses
Leadership: +5 for Peasant Mob units
Growth: +10
 ? turns

Subsidised Tools
Melee attack: +10 for Peasant Mob units
Construction costs: -5% for

Infrastructure

buildings
Recruitment cost: -10% for Peasant Mob Units
 ? turns

Town Census
Unit experience: +2 for Peasant Mob unit recruits
Local recruitment capacity: +1
 ? turns

Charity
Chivalry: +20
Public Order: +2
 ? turns
Indicator Style v2 (custom indicators)
[
]
Campaign Upgrades
[
]
Route
Name
Effect
Cost

The Chivalric Code
Growth: +4
Income from settlements: +3%
 ? turns
Heraldry Technologies

Death's Grip Decree
Diplomatic relations: -50 with

Undead


Leadership: +10 when fighting against

Undead


Attrition: -25% casualties suffered due to Vampiric Corruption attrition
+2 Chivalry for every victory against the

Undead

 ? turns

Ruinous Powers Decree
Diplomatic realtions: -100 with

Chaos


+2 Chivalry for every victory against

Chaos


Attrition: -50% casualties suffered from Chaos territory attrition
Lord Aura size: +50% when fighting against

Chaos


Bonus vs. Large: +5 when fighting against

Chaos

 ? turns

Safer Woods Decree
Diplomatic relations: -100 with Beastmen Warherds
Missile damage: +10% when fighting against Beastmen Warherds
Leadership: +5 when fighting against Beastmen Warherds
+2 Chivalry for every victory against Beastmen Warherds
 ? turns

Forests' Edge Decree
+2 Chivalry for every victory against

Wood Elves


Leadership: +8 when fighting against

Wood Elves


Missile resistance: +10% when fighting against

Wood Elves


Diplomatic relations: -50 with

Wood Elves

 ? turns

Green Tide Decree
Diplomatic relations: -50 with

Greenskin Tribes


Immunity to Barren Wasteland attrition
+2 Chivalry for every victory against

Greenskin Tribes


Double experience for units when fighting against

Greenskin Tribes

 ? turns

Grey Mountain Watch
Diplomatic relations: -50 with

Greenskin Tribes


+3 Chivalry for every victory against

Greenskin Tribes


Weapon strength: +10% when fighting against

Greenskin Tribes


Leadership: +10 during subterranean intercept battles
 ? turns

Winter Woes Decree
Immunity to Snow attrition
+2 Chivalry for every victory against Norscan Tribes
Double experience gain for units when fighting against Norscan Tribes
Diplomatic relations: -50 with Norscan Tribes
 ? turns

The North Guard
+3 Chivalry for every victory against Norscan Tribes
Melee attack: +5 when fighting against Norscan Tribes
Melee defence: +10 when fighting against Norscan Tribes
Diplomatic relations: -50 with Norscan Tribes
 ? turns
Economic Upgrades
[
]
Route
Name
Effect
Cost

Economic Investment
Growth: +4
Income from settlements: +3%
 ? turns
Peasant Upgrades
Port Upgrades
Farm Upgrades
Industry Upgrades
Peasant Upgrades
[
]
Route
Name
Effect
Cost

Almshouses
Leadership: +5 for Peasant Mob units
Growth: +10
 ? turns

Subsidised Tools
Melee attack: +10 for Peasant Mob units
Construction costs: -5% for

Infrastructure

buildings
Recruitment cost: -10% for Peasant Mob Units
 ? turns

Town Census
Unit experience: +2 for Peasant Mob unit recruits
Local recruitment capacity: +1
 ? turns

Charity
Chivalry: +20
Public Order: +2
 ? turns
Indicator Style v3 (big dot indicators)
[
]
Campaign Upgrades
[
]
Route
Name
Effect
Cost

The Chivalric Code
Growth: +4
Income from settlements: +3%
 ? turns
Heraldry Technologies

Death's Grip Decree
Diplomatic relations: -50 with

Undead


Leadership: +10 when fighting against

Undead


Attrition: -25% casualties suffered due to Vampiric Corruption attrition
+2 Chivalry for every victory against the

Undead

 ? turns

Ruinous Powers Decree
Diplomatic realtions: -100 with

Chaos


+2 Chivalry for every victory against

Chaos


Attrition: -50% casualties suffered from Chaos territory attrition
Lord Aura size: +50% when fighting against

Chaos


Bonus vs. Large: +5 when fighting against

Chaos

 ? turns

Safer Woods Decree
Diplomatic relations: -100 with Beastmen Warherds
Missile damage: +10% when fighting against Beastmen Warherds
Leadership: +5 when fighting against Beastmen Warherds
+2 Chivalry for every victory against Beastmen Warherds
 ? turns

Forests' Edge Decree
+2 Chivalry for every victory against

Wood Elves


Leadership: +8 when fighting against

Wood Elves


Missile resistance: +10% when fighting against

Wood Elves


Diplomatic relations: -50 with

Wood Elves

 ? turns

Green Tide Decree
Diplomatic relations: -50 with

Greenskin Tribes


Immunity to Barren Wasteland attrition
+2 Chivalry for every victory against

Greenskin Tribes


Double experience for units when fighting against

Greenskin Tribes

 ? turns

Grey Mountain Watch
Diplomatic relations: -50 with

Greenskin Tribes


+3 Chivalry for every victory against

Greenskin Tribes


Weapon strength: +10% when fighting against

Greenskin Tribes


Leadership: +10 during subterranean intercept battles
 ? turns

Winter Woes Decree
Immunity to Snow attrition
+2 Chivalry for every victory against Norscan Tribes
Double experience gain for units when fighting against Norscan Tribes
Diplomatic relations: -50 with Norscan Tribes
 ? turns

The North Guard
+3 Chivalry for every victory against Norscan Tribes
Melee attack: +5 when fighting against Norscan Tribes
Melee defence: +10 when fighting against Norscan Tribes
Diplomatic relations: -50 with Norscan Tribes
 ? turns
Economic Upgrades
[
]
Route
Name
Effect
Cost

Economic Investment
Growth: +4
Income from settlements: +3%
 ? turns
Peasant Upgrades
Port Upgrades
Farm Upgrades
Industry Upgrades
Peasant Upgrades
[
]
Route
Name
Effect
Cost

Almshouses
Leadership: +5 for Peasant Mob units
Growth: +10
 ? turns

Subsidised Tools
Melee attack: +10 for Peasant Mob units
Construction costs: -5% for

Infrastructure

buildings
Recruitment cost: -10% for Peasant Mob Units
 ? turns

Town Census
Unit experience: +2 for Peasant Mob unit recruits
Local recruitment capacity: +1
 ? turns

Charity
Chivalry: +20
Public Order: +2
 ? turns
Indicator Style v4 (square indicators)
[
]
Campaign Upgrades
[
]
Route
Name
Effect
Cost

The Chivalric Code
Growth: +4
Income from settlements: +3%
 ? turns
Heraldry Technologies

Death's Grip Decree
Diplomatic relations: -50 with

Undead


Leadership: +10 when fighting against

Undead


Attrition: -25% casualties suffered due to Vampiric Corruption attrition
+2 Chivalry for every victory against the

Undead

 ? turns

Ruinous Powers Decree
Diplomatic realtions: -100 with

Chaos


+2 Chivalry for every victory against

Chaos


Attrition: -50% casualties suffered from Chaos territory attrition
Lord Aura size: +50% when fighting against

Chaos


Bonus vs. Large: +5 when fighting against

Chaos

 ? turns

Safer Woods Decree
Diplomatic relations: -100 with Beastmen Warherds
Missile damage: +10% when fighting against Beastmen Warherds
Leadership: +5 when fighting against Beastmen Warherds
+2 Chivalry for every victory against Beastmen Warherds
 ? turns

Forests' Edge Decree
+2 Chivalry for every victory against

Wood Elves


Leadership: +8 when fighting against

Wood Elves


Missile resistance: +10% when fighting against

Wood Elves


Diplomatic relations: -50 with

Wood Elves

 ? turns

Green Tide Decree
Diplomatic relations: -50 with

Greenskin Tribes


Immunity to Barren Wasteland attrition
+2 Chivalry for every victory against

Greenskin Tribes


Double experience for units when fighting against

Greenskin Tribes

 ? turns

Grey Mountain Watch
Diplomatic relations: -50 with

Greenskin Tribes


+3 Chivalry for every victory against

Greenskin Tribes


Weapon strength: +10% when fighting against

Greenskin Tribes


Leadership: +10 during subterranean intercept battles
 ? turns

Winter Woes Decree
Immunity to Snow attrition
+2 Chivalry for every victory against Norscan Tribes
Double experience gain for units when fighting against Norscan Tribes
Diplomatic relations: -50 with Norscan Tribes
 ? turns

The North Guard
+3 Chivalry for every victory against Norscan Tribes
Melee attack: +5 when fighting against Norscan Tribes
Melee defence: +10 when fighting against Norscan Tribes
Diplomatic relations: -50 with Norscan Tribes
 ? turns
Economic Upgrades
[
]
Route
Name
Effect
Cost

Economic Investment
Growth: +4
Income from settlements: +3%
 ? turns
Peasant Upgrades
Port Upgrades
Farm Upgrades
Industry Upgrades
Peasant Upgrades
[
]
Route
Name
Effect
Cost

Almshouses
Leadership: +5 for Peasant Mob units
Growth: +10
 ? turns

Subsidised Tools
Melee attack: +10 for Peasant Mob units
Construction costs: -5% for

Infrastructure

buildings
Recruitment cost: -10% for Peasant Mob Units
 ? turns

Town Census
Unit experience: +2 for Peasant Mob unit recruits
Local recruitment capacity: +1
 ? turns

Charity
Chivalry: +20
Public Order: +2
 ? turns
Indicator Style v5 (recoloured indicators)
[
]
Campaign Upgrades
[
]
Route
Name
Effect
Cost

The Chivalric Code
Growth: +4
Income from settlements: +3%
 ? turns
Heraldry Technologies

Death's Grip Decree
Diplomatic relations: -50 with

Undead


Leadership: +10 when fighting against

Undead


Attrition: -25% casualties suffered due to Vampiric Corruption attrition
+2 Chivalry for every victory against the

Undead

 ? turns

Ruinous Powers Decree
Diplomatic realtions: -100 with

Chaos


+2 Chivalry for every victory against

Chaos


Attrition: -50% casualties suffered from Chaos territory attrition
Lord Aura size: +50% when fighting against

Chaos


Bonus vs. Large: +5 when fighting against

Chaos

 ? turns

Safer Woods Decree
Diplomatic relations: -100 with Beastmen Warherds
Missile damage: +10% when fighting against Beastmen Warherds
Leadership: +5 when fighting against Beastmen Warherds
+2 Chivalry for every victory against Beastmen Warherds
 ? turns

Forests' Edge Decree
+2 Chivalry for every victory against

Wood Elves


Leadership: +8 when fighting against

Wood Elves


Missile resistance: +10% when fighting against

Wood Elves


Diplomatic relations: -50 with

Wood Elves

 ? turns

Green Tide Decree
Diplomatic relations: -50 with

Greenskin Tribes


Immunity to Barren Wasteland attrition
+2 Chivalry for every victory against

Greenskin Tribes


Double experience for units when fighting against

Greenskin Tribes

 ? turns

Grey Mountain Watch
Diplomatic relations: -50 with

Greenskin Tribes


+3 Chivalry for every victory against

Greenskin Tribes


Weapon strength: +10% when fighting against

Greenskin Tribes


Leadership: +10 during subterranean intercept battles
 ? turns

Winter Woes Decree
Immunity to Snow attrition
+2 Chivalry for every victory against Norscan Tribes
Double experience gain for units when fighting against Norscan Tribes
Diplomatic relations: -50 with Norscan Tribes
 ? turns

The North Guard
+3 Chivalry for every victory against Norscan Tribes
Melee attack: +5 when fighting against Norscan Tribes
Melee defence: +10 when fighting against Norscan Tribes
Diplomatic relations: -50 with Norscan Tribes
 ? turns
Economic Upgrades
[
]
Route
Name
Effect
Cost

Economic Investment
Growth: +4
Income from settlements: +3%
 ? turns
Peasant Upgrades
Port Upgrades
Farm Upgrades
Industry Upgrades
Peasant Upgrades
[
]
Route
Name
Effect
Cost

Almshouses
Leadership: +5 for Peasant Mob units
Growth: +10
 ? turns

Subsidised Tools
Melee attack: +10 for Peasant Mob units
Construction costs: -5% for

Infrastructure

buildings
Recruitment cost: -10% for Peasant Mob Units
 ? turns

Town Census
Unit experience: +2 for Peasant Mob unit recruits
Local recruitment capacity: +1
 ? turns

Charity
Chivalry: +20
Public Order: +2
 ? turns
FamTree V
[
]

Almshouses
Leadership: +5 for Peasant Mob units
Growth: +10
 ? turns

Subsidised Tools
Melee attack: +10 for Peasant Mob units
Construction costs: -5% for

Infrastructure

buildings
Recruitment cost: -10% for Peasant Mob Units
 ? turns

Town Census
Unit experience: +2 for Peasant Mob unit recruits
Local recruitment capacity: +1
 ? turns

Charity
Chivalry: +20
Public Order: +2
 ? turns
Full Tree Style
[
]

Almshouses
 ? turns

Subsidised Tools
 ? turns

Town Census
 ? turns

Charity
 ? turns