The Greenskins are a playable race introduced in Total War: Warhammer. They have five playable factions and five Legendary Lords to choose from.
Greenskins is the collective term for Orcs, Goblins and other similar races. These unruly warriors dwell in the Badlands, mountains and other wild areas and love nothing more than a good fight. From time to time, they will come together in a great "Waaagh!" - an invasion of civilised lands. Armies of Greenskins feature masses of poorly-disciplined infantry, alongside boar-riding cavalry and monsters like trolls and giant spiders.
Playstyle
[
]
Background
[
]
| | | |
| --- | --- | --- |
| " | Stoopid humie gitz – we iz da best! | " |
Orcs and Goblins are the scourge of the Old World. Collectively known as Greenskins, they are an aggressive and brutal race with an unquenchable love of fighting. For most nations, war is a means to an end - an act of aggression to conquer and dominate an enemy. However, the Greenskins - and the Orcs in particular - revel in battle purely for the sake of it. Orcs are built for violence - brutal, bullying creatures of jutting jaws and hulking appearance. The Goblins, by contrast, are smaller but more cunning as they mob up in greater numbers. This motley cast is supported by a fell menagerie of other creatures from wolves to Trolls, monstrous spiders to lumbering Giants.
Yet it's the Orcs that dominate - their violent temperament keeping them top of the Greenskin tree. Orc attacks range from raids to mighty Waaaghs! where Greenskins of all stripes congregate in their tens of thousands under a single leader, who they believe has been chosen by Gork (or Mork) - the fickle gods of Orc-dom - to lead the mighty green tide on a rampage across the world. It is the Waaagh! that the other, weaker, races fear the most, as once an Orc Warboss gains enough momentum his horde can only ever be stopped at great cost. The Empire is a common target - having been ravaged countless times by infamous Waaaghs! throughout history. Yet it is the Dwarfs that harbour a special hatred of Orcs and their despicable kin, as the Dawi have lost many of their legendary strongholds to Greenskin incursions.
While the Greenskins have made lairs in ransacked Dwarfen holds, they can be found across the world - the majority residing in the arid Badlands, mainly fighting amongst themselves and occasionally coming together as a greater threat. Now such an occasion is upon us, for Grimgor Ironhide comes south. Goaded by Gorfang Rotgut, the boss of Black Crag, Ironhide marches with his Black Orcs. Once Black Crag is his, surely the Badlands will follow? And then the rest of the Dwarf realms shall fall to his ever-growing Waaagh!, all while the Empire and the other humie realms burn. This is what Gork and Mork demand; please them and ensure the mobs shout the name "GRIMGOR" for the rest of time!
In Battle
[
]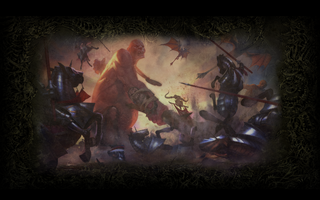 Unit Roster

[

]

The Greenskins have a diverse unit roster which is not really lacking in any one area. There are many kinds of fairly cheap or expendable infantry, ranged and melee cavalry, heavy infantry such as Black Orcs, warbeasts, chariots, artillery (eg: the Doom Diver) and monstrous units such as Trolls, Arachnarok Spiders, Giants. Their sole flying unit is the Wyvern, available as a mount.
Their generic spellcasters have access to two unique lores of magic: the Lore of the Big Waaagh! and Lore of the Little Waaagh!, while Azhag the Slaughterer has access to the Lore of Death.
Waaagh!

[

]
Waaagh! is an ability available to all Greenskins lords which gives speed, melee attack and charge bonus to all units in their army.
Campaign
[
]
The Greenskins are a non-horde race that can occupy settlements and control provinces.
Not to be confused with the Savage Orc Tribes who are a minor race of Greenskins that will become hordes when they don't control any settlements.
Playable Factions

[

]
The Greenskins have five playable factions with five Legendary Lords to choose from:
Waaagh!

[

]
A Waaagh! is an unstoppable force that can be unleashed once your faction gains sufficient

Reputation through winning battles and razing settlements. Once a Call to Waaagh! is targeted against an enemy, additional mobs will flock to your armies for a period of time as your
Lords' Waaagh! battle abilites are temporarily boosted. Razing the enemy's capital within the allotted time or occupying it when the Waaagh! ends will grant a trophy and rewards in addition to building momentum towards the next Call to Waaagh!.
Scrap

[

]
Greenskins know not to waste good battle salvage, actively gathering any bits of
Scrap they find after battles or razing settlements. Scrap can be used to upgrade and improve the boyz' armaments or research technologies.
Tribal Confederation

[

]
The Greenskins' tribal hierarchy is brutal, but simple. Bash in enough heads and take enough loot, sooner or later you're going to get some mobs and become a Warboss. Beat up another Warboss in battle, his mobs will become yours too, since loyalty is a concept neither Orcs or Goblins really care for.
Be aware that subjugating another Warboss and his tribe also means taking over their territory, leading to a larger empire to oversee - perhaps just keep things simple and bash in his head too!
The Underway

[

]
Greenskins can sneak through the
Underway to travel beneath otherwise impassable terrain. Doing so is not without risk, however, as Greenskin armies can be intercepted by armies above and brought to battle, even by races that cannot use the Underway themselves.
Savage Orcs

[

]
Settlements that contain the
Savage Orcs resource will give Greenskin factions access to a unique building chain allowing them to recruit powerful Savage Orc units.
The resource can mainly be found in the Southern Badlands, but is also present in the Western Badlands and the [Southern] Jungles of Pahualaxa.
Building Chain
[
]
Settlements that contain the
Savage Orcs resource will unlock the following building chain:
Tier
Building
Type
Cost
Effects
Landmark
1500

2 Turns

Savage Orcs are nomadic, but there are certain areas, deep in the Badlands, where they gather.

Unlocks recruitment of:

Landmark
3000

3 Turns

A Savage Orc camp is an even more disorganised rabble of tents than a traditional Orc settlement.

Unlocks recruitment of:

Landmark
6000

4 Turns

Savage Orcs can Waaagh! just like any Greenskin, giving thanks to Gork or Mork before charging off.

Unlocks recruitment of:
Units
[
]
The Savage Orc building chain will unlock the following units:
Unit
Stats
Recruitment
General
Melee
Ranged
Defence

Turns: 1

Upkeep: 138

Recruitment
General
Melee
Ranged
Defence

Turns: 2

Upkeep: 225

Recruitment
General
Melee
Ranged
Defence

Turns: 1

Upkeep: 138

Recruitment
General
Melee
Ranged
Defence

Turns: 2

Upkeep: 187

Armour: 35

Recruitment
General
Melee
Ranged
Defence

Turns: 2

Upkeep: 275

Armour: 35
Buildings

[

]
Technology

[

]
Stances

[

]
Greenskin armies can adopt the following stances:
Stance
Description
Effects

None

Traverses the world as normal
None

March

Increases this army's campaign map marching range.

Ambush

Conceals this army, allowing surprise attacks against passing enemies.

Use Underway

Uses the Underway to traverse the world.

Raidin' Camp

Sets up a defensive camp, allowing for recruitment and replenishment, whilst raiding wealth from the local region.

Scrap: +3 per turn
Enables replenishment and access to the global recruitment pool
Obedience: -3 in the raided province
Growth: -5 in the raided province
Immune to attrition
Melee defence: +5
Leadership: +5
Diplomacy: Penalties with raided factions
Income from all buildings: -100% (when raiding own region)
Campaign movement: Disabled
Post-Battle Options

[

]
Greenskins have the following post-battle options after winning a battle:
| Ransom Captives | Slaughter Captives | Eat Captives |
| --- | --- | --- |
| Earn some extra loot by sellin' the captives off! | Kill 'em! Kill all the gits! | These scraggy gits look tasty - eat 'em up and replenish the boyz with full stomachs! |
| | Your army will gain the following effect: | |
Settlement Options

[

]
Greenskins have the following settlement options after successfully sieging a settlement:
| Occupy | Loot & Occupy | Sack | Raze |
| --- | --- | --- | --- |
| | | | |
| You occupy the settlement and all captives are slaughtered. | You gain wealth from looting, but buildings in the settlement are damaged. All captives are enslaved, obedience is greatly reduced, and your diplomatic relations with the previous owner also suffer greatly. | You do not capture the settlement but instead steal wealth and damage buildings. All captives are enslaved, obedience is reduced, and the previous owner will like you a lot less. | All buildings are destroyed and the settlement is torched. |
| | | | |
Commandments

[

]
Greenskins can issue the following commandments when all settlements are owned in the selected province:
| Commandment | Effects |
| --- | --- |
| Camp Ruckus | |
| Give it 'ere | Income extortion rate: +5% |
| Brag about da Boss | |
Climate

[

]
Greenskins have the following climate preferences:
| Preference | Climate |
| --- | --- |
| Suitable: | Wasteland, Mountain, Savannah |
| Unpleasant: | Frozen, Temperate, Desert, Jungle |
| Uninhabitable: | Magical Forest, Ocean, Chaotic Wasteland, Temperate Island |
Inventory

[

]
Strategy
[
]
Greenskin armies are extremely varied, comprising orcs, goblins, trolls, giants, squigs and spiders. This melting pot excels at adapting to any battlefield circumstance. Combat is what Greenskins live for and unsurprisingly, periods of peace cause major attrition as they start stabbing at each other. Keep everyone on a warpath and the troops will not have to resort to infighting. Speaking of infighting: Internecine warfare makes the Greenskins scattered and individually weak. Settling quarrels between the tribes is the first step to uniting them and creating a Waaagh! that will shake the very foundations of the world.
Greenskins are a faction geared towards aggressive gameplay focusing on sacking and raiding thanks to the bonus income received that way; their settlement options and technology trees are limited, not to mention they cannot trade at all, so resources are also largely meaningless. Your primary focus, therefore, is striking deep into enemy territory, aided by your ability to recruit anywhere on the map, aided by a very robust catalogue of units ranging from the cheap, yet easily routed goblins to the stout, aggressive orcs. Flexibility and mobility are the greenskins' distinguishing feature - well, that and the large number of monsters. This makes playing them a bit of a diverse challenge, on the one hand, they are quite forgiving in battle mode, but maintaining logistics during the campaign can be a challenge.
Regiments of Renown are particularly strong insofar the Greenskins are concerned and can easily form the core of an army. However, where the greenskins really shine is competitive play, where they have a well-rounded unit roster that only lacks for decent AP ranged units. Wurrzag da Great Green Prophet is a particularily viable lord choice who not only is capable of buffing the entire army with his spells and abilities (especially

the Bone Wood Staff

which in synergy with Waaagh! can turn a greenskin infantry line in an unstoppable force) but who is also a decent and for a caster rather survivable melee combatant.
Downloadable Content
[
]
The Greenskins can be expanded upon with the following downloadable content:
Minor Factions
[
]
On the campaign map, many factions are grouped together as Greenskins and use the Greenskins unit roster.
Not to be confused with the Savage Orc Tribes which are a minor race of Greenskins.
These factions were replaced when The King and the Warlord was released:
These factions only appear in this campaign:
These factions only appear in this campaign:
Introduced in the Mortal Empires campaign:

[

]
Trivia
[
]
Greenskins was originally the name for the Grimgor's 'Ardboyz faction, sharing the generic name with its race. This was changed with the Potion of Speed Update for Total War: Warhammer II. It was named "Black Crag" for a short while, as well.
Azhag the Slaughterer was moved to his own faction, the Bonerattlaz, with The Total Waaagh! Update for Total War: Warhammer II. He was previously sharing the same faction as Grimgor Ironhide.
Though introduced in the first Total War: Warhammer game, the Greenskins received a considerable overhaul with the release of the The Warden and the Paunch DLC for Total War: Warhammer II, due to one of the lords, Grom the Paunch, being a Greenskins lord.
Chaos Invasion
Reikland Campaign
Har Ganeth Campaign
The Huntsmarshal's Expedition Campaign
Ghosts of Pahaux campaign
Norsca Campaign
Spirit of the Jungle's Vassal
Tomb Kings Campaign
Vampire Coast Campaign
Vampire Counts (Sylvania & Von Carstein) campaign
Warriors of Chaos Campaign
Wood Elves Campaign
Separatists
Rebels
Unimplemented factions
Videos
[
]
Greenskins/Grimgor Ironhide introduction trailer
Greenskins intro
How to play the Greenskins: Campaign Strategy
How to play the Greenskins: Unit Roster & Battle Strategy
How to play the Greenskins: Lords & Heroes