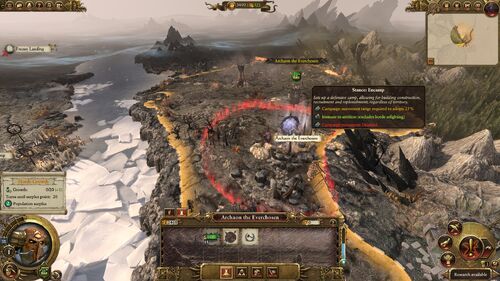 Hordes or horde armies are armies which can act as a mobile settlements when in encamped stance, allowing them to construct buildings which they take with it when they move again.
Some races and factions are only hordes, and don't occupy settlements at all. However, the exact specifics differ by race and faction.
Horde armies don't have to worry about public order, taxes, regional occupation or climate limitations.
In battles, horde factions are no different to other factions.
How they work
[
]
Hordes generally don't occupy settlements on the campaign map. Instead they have their armies enter encamped stance to quickly create buildings before moving on.
Horde armies have a maximum of 10 building slots when fully upgraded.
As horde factions cannot truly take over a settlement, they will always sack, loot, or raze it after conquering. This also means horde armies cannot garrison a settlement.
Horde faction buildings often don't generate much income, so horde factions rely on the money they get from winning battles and sacking/razing enemy settlements to get money. In the case of Beastmen from TWW2 onwards, they don't really rely on money (Favour) very much, because they do not pay unit upkeep - instead being limited by unit caps.
Because hordes do not truly occupy settlements, they are not affected by climate or regional occupation. However, they can still face attrition due to corruption (or lackof) and terrain.
Horde Growth
[
]
Instead of normal growth, hordes have Horde Growth. Horde growth generates population surplus as normal. However unlike normal factions where usually only the main settlement building requires population growth to upgrade, many horde buildings require population growth to be built/upgraded.
Horde growth can be increased in various ways. The Beastmen in TWW2 onwards rely on a high

Bestial Rage level to ensure horde growth.
Recruiting a new Lord from your horde starts a new horde. This requires population surplus. New hordes must sometimes be protected until they are large enough to survive on their own.
Horde infighting
[
]
Horde infighting is a mechanic unique to the Warriors of Chaos. If two Warriors of Chaos hordes are near each other, the Marauder units in the hordes will suffer attrition from Horde infighting. In earlier versions of the game, this affected all Warriors of Chaos units and not just the Marauders.
Beastmen
[
]
Herdstones are special settlements with only very limited building options, which the Beastmen can construct after razing a settlement and spending a
Herdstone Shard.
Other than that, Beastmen are a horde faction which does not occupy and manage settlements, all their armies are horde armies.
Spirit of the Jungle
[
]
Spirit of the Jungle is a playable Lizardmen faction which operates as a horde. However, when they take a settlement, it instead becomes controlled by the AI Defenders of the Great Plan faction which are permanent vassals to Spirit of the Jungle.
Similar mechanics
[
]
Playable horde factions
[
]
Total War: Warhammer
[
]
Total War: Warhammer II
[
]
Minor non-playable horde factions
[
]
Note that some non-playable hordes--such as Rogue Armies and Savage Orcs--can take over settlements, though the amount of buildings they can create is limited, and they otherwise continue to function as a Horde army.
Total War: Warhammer
[
]
Savage Orcs
Beastmen
Norsca
Total War: Warhammer II
[
]
Savage Orcs
Beastmen
Warriors of Chaos
Savage Orcs
Beastmen
Norsca
The Final Battle
Ritual Interventions
Ritual Interventions
(Non-Player Factions)
Separatists
Har Ganeth Campaign
The Huntsmarshal's Expedition Campaign
Ghosts of Pahaux campaign
Spirit of the Jungle's Vassal
Tomb Kings Campaign
Vampire Coast Campaign
Chevaliers de Lyonesse Campaign
Heralds of Ariel Campaign
Yvresse Campaign
Rebels
Chaos Invasion
Reikland Campaign
Har Ganeth Campaign
The Huntsmarshal's Expedition Campaign
Ghosts of Pahaux campaign
Norsca Campaign
Spirit of the Jungle's Vassal
Tomb Kings Campaign
Vampire Coast Campaign
Vampire Counts (Sylvania & Von Carstein) campaign
Warriors of Chaos Campaign
Wood Elves Campaign
Separatists
Rebels