| | |
| --- | --- |
| | This article or section is about game content which is currently in development at Creative Assembly. The information here is not final, and may change rapidly. |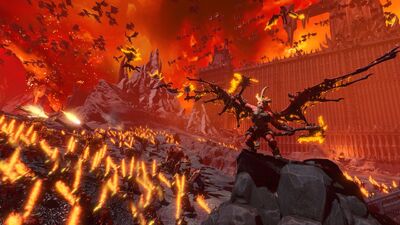 For other unit rosters, see unit roster.
The Khorne unit roster lists all known units for Khorne. This page is subject to radical change as more information is revealed.
Brief overview
[
]
The Khorne roster has a distinction between regular "mortal" units and

Daemon

units. Daemons tend to have less heavy armour, but do more damage. Daemons do not rout/break but instead take damage over time when their leadership is low.
Khorne's roster is full of elite melee units which deal high damage. There is one ranged unit so far.
Khorne is only the second race to have no spellcasters at all, after the Dwarfs.
Most Khorne units have strong

spell resistance

.
Many units have passive abilities that activate or grow more powerful as the unit kills more of the enemy.
List
[
]
Tip: On a desktop computer, you can expand the size of the wiki page and table by clicking the expand icon in the top left, and hiding the sidebar in the top right. Search for a specific unit using ctrl+f.
Characters
[
]
Characters

Category
Name
Unit type
Character type
Engagement
Mounts
Type
DLC
Legendary Lords
Skarbrand
Monster
Melee Specialist
Melee
None
Daemon
WH3
Lords

Exalted Bloodthirster

Flying Monster
Melee Specialist
Melee
None
Daemon
WH3

Herald of Khorne

Infantry
Melee Specialist
Melee

Juggernaut




Blood Throne

Daemon
WH3
Heroes

Bloodreaper

Infantry
Melee Specialist
Melee
Juggernaut
Blood Throne
Daemon
WH3

Cultist of Khorne

Infantry
Unknown
Melee
Warhorse
Mortal
WH3
Standard units
[
]
Standard units

Category
Name
Unit type
Engagement
Type
DLC
Infantry

Bloodletters of Khorne

Greatsword Infantry
Melee
Daemon
WH3

Exalted Bloodletters of Khorne

Greatsword Infantry
Melee
Daemon
WH3

Chaos Warriors of Khorne

Axe Infantry
Melee
Mortal
WH3

Chaos Warriors of Khorne (Halberds)

Halberd Infantry
Melee
Mortal
WH3

Chaos Warriors of Khorne (Dual Weapons)

Berserker Axe Infantry
Melee
Mortal
WH3

Chaos Furies (Khorne)

Flying Melee Infantry
Melee
Daemon
WH3
Monstrous Infantry

Minotaurs of Khorne (Dual Axes)

Monstrous Infantry
Melee
Mortal
WH3

Minotaurs of Khorne (Great Weapons)

Monstrous Infantry
Melee
Mortal
WH3

Spawn of Khorne

Monstrous Infantry
Melee
Mortal
WH3
Cavalry

Bloodcrushers of Khorne

Cavalry
Melee
Daemon
WH3

Skullcrushers of Khorne

Shock Cavalry
Melee
Mortal
WH3
War Beasts
Chaos Warhounds
War Beast
Melee
Mortal
WH3

Flesh Hounds

War Beast
Melee
Daemon
WH3
Monsters

Bloodthirster

Flying Monster
Melee
Daemon
WH3

Soul Grinder of Khorne

Monster
Melee
Daemon
WH3
Artillery, Chariots
War Machines

Gorebeast Chariot of Khorne

War Machine
Melee (probably)
Unknown
WH3

Skullcannon

War Machine
Ranged
Daemon
WH3

Blood Shrine of Khorne

War Machine
Melee
Daemon
WH3
Regiments of Renown
[
]
Regiments of Renown

Category
Name
Unit type
Engagement
Type
DLC
Campaign-only units
[
]
Campaign-only units

Category
Name
Unit type
Engagement
Type
DLC
References
[
]