| | |
| --- | --- |
| | This article or section is about game content which is currently in development at Creative Assembly. The information here is not final, and may change rapidly. |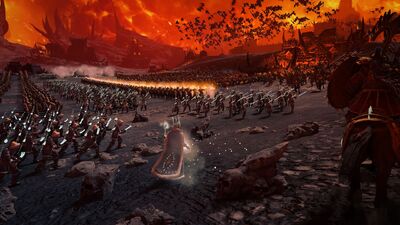 For other unit rosters, see unit roster.
The Kislev unit roster lists all known units for Kislev. This page is subject to radical change as more information is revealed.
Brief overview
[
]
Like other human and elven races, Kislev has a core of infantry, backed up by a variety of powerful cavalry, with some artillery and monsters.
Kislev has no flying units at all (not even mounts or summons). They are the second race to lack fliers, after Skaven.
Uniquely, a large amount of Kislev units are hybrid units, proficient both at range and in melee.
Most Kislev units have the By Our Blood ability, giving them extra leadership when their health is low.
List
[
]
Tip: On a desktop computer, you can expand the size of the wiki page and table by clicking the expand icon in the top left, and hiding the sidebar in the top right. Search for a specific unit using ctrl+f.
Characters
[
]
Characters

Category
Name
Unit type
Character type
Engagement
Mounts
DLC
Legendary Lords
Tzarina Katarin
Infantry
Spellcaster (Lore of Ice)
Melee
Warhorse


War Bear

Base game
Kostaltyn
Infantry
Support Specialist
Melee
Warhorse


War Bear

Base game
Lords

Boyar

Infantry
Unknown, probably Melee Specialist
Melee
Warhorse


War Bear

Base game

Ice Witch (Ice)

Infantry
Spellcaster (Lore of Ice)
Melee
Warhorse


War Bear

Base game

Ice Witch (Tempest)

Infantry
Spellcaster (Lore of Tempest)
Melee
Warhorse


War Bear

Base game
Heroes

Patriarch

Infantry
Support Specialist
Melee
Warhorse


War Bear

Base game

Frost Maiden (Ice)

Infantry
Spellcaster (Lore of Ice)
Melee
Warhorse


War Bear

Base game

Frost Maiden (Tempest)

Infantry
Spellcaster (Lore of Tempest)
Melee
Warhorse


War Bear

Base game
Standard units
[
]
Standard units

Category
Name
Unit type
Engagement
DLC
Infantry

Tzar Guard (Sword & Shield)

Sword Infantry
Melee
Base game

Tzar Guard (Greatsword)

Unknown
Melee
Base game

Kossars

Bow & Axe Infantry
Ranged
Base game

Kossars (Spears)

Bow & Spear Infantry
Ranged
Base game

Streltsi

Gun-Greataxe Infantry
Ranged
Base game

Ice Guard (Bow & Glaive)

Bow & Glaive Infantry
Ranged
Base game

Ice Guard (Bow & Dual Sword)

Unknown
Ranged
Base game

Armoured Kossars (Pistol & Axe)

Unknown
Ranged
Base game

Armoured Kossars (Pistol & Greatmace)

Unknown
Ranged
Base game
Cavalry

Kossovite Dervishes

Unknown
Melee
Base game

Horse Archers

Missile Cavalry
Ranged
Base game

Winged Lancers

Shock Cavalry
Melee
Base game

Gryphon Legion

Shock Cavalry
Melee
Base game

War Bear Riders

Bear Cavalry
Melee
Base game
Artillery, Chariots,
War Machines

Little Grom

Siege Artillery
Ranged (Artillery)
Base game

Light War Sleds

Unknown
Ranged
Base game

Heavy War Sleds

Unknown
Ranged
Base game
Monsters and War Beasts

Snow Leopard

Unknown
Melee
Base game

Elemental Bear

Monster
Melee
Base game
Regiments of Renown
[
]
Campaign-only units
[
]
[

]
Legendary Lords
Tzarina Katarin · Kostaltyn
Lords

Boyar

·

Ice Witch (Ice)

·

Ice Witch (Tempest)

Heroes

Patriarch

·

Frost Maiden (Ice)

·

Frost Maiden (Tempest)

Mounts
Warhorse ·

War Bear

Melee Infantry

Tzar Guard (Sword & Shield)

·

Tzar Guard (Greatsword)

·

Kossars

·

Kossars (Spears)

·

Streltsi

Ranged Infantry

Ice Guard (Bow & Glaive)

·

Ice Guard (Bow & Dual Sword)

·

Armoured Kossars (Pistol & Axe)

·

Armoured Kossars (Pistol & Greatmace)

Melee cavalry

Kossovite Dervishes

·

Winged Lancers

·

Gryphon Legion

·

War Bear Riders
Ranged cavalry

Horse Archers

Chariots

Light War Sleds

·

Heavy War Sleds

Warbeasts

Snow Leopard

Monsters

Elemental Bear

Artillery

Little Grom
Legendary Lords

Boris Ursus