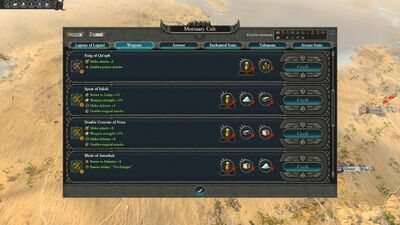 The Mortuary Cult is a gameplay mechanic for Tomb Kings on the campaign map. It allows them to use a combination of money, canopic jars and trade resources to craft items, recruit Legions of Legend and increase their army cap. The Dwarfs have a similar mechanic called The Forge.
The Mortuary Cult can be accessed on the campaign map by clicking the Mortuary Cult icon in the bottom right. The Mortuary Cult has 6 tabs: Legions of Legend, Weapons, Armour, Enchanted Items, Talismans, and Arcane Items.
A New Dynasty
[
]
This button allows you to recruit an additional army without needing to research new dynasties in the tech tree. Each new instance will cost more money and Canopic Jars.
10000 coin, 800 canopic jars
20000 coin, 1600 canopic jars
Legions of Legend
[
]
See Legions of Legend for a full article.
The Legions of Legend tab allows players to spend money, canopic jars and trade resources to awaken Legions of Legend.
List of Items
[
]
| Item name | Type | Rarity | Effects | Requirements |
| --- | --- | --- | --- | --- |
| Golden Dagger | Weapon | Common | Melee attack +4, Weapon strength +3% | 50 | |
| Enchanted Lapis Mace | Weapon | Common | Bonus vs Large +5, Weapon strength +5%, Enables magical attacks | 50 | |
| Inscribed Khopesh | Weapon | Common | Weapon strength +5%, Melee defence +3 | 50 | |
| Fang of Qu'aph | Weapon | Common | Melee attack +2, Enables poison attacks | 50 | |
| Spear of Pakth | Weapon | Uncommon | Bonus vs Large +10, Weapon strength +5%, Melee defence +5, Enables magical attacks | 100 | |
| Double Crescent of Naru | Weapon | Uncommon | Melee attack +8, Weapon strength +5%, Melee defence +4, Enables magical attacks | 100 | |
| Blade of Antarhak | Weapon | Uncommon | Bonus vs Infantry +8, passive ability: The Hunger | 100 | |
| Blade of Setep | Weapon | Uncommon | Armour-piercing damage +12, Enables magical attacks, ability: Blade of Setep (-30 armour, -22% physical resistance for 44 seconds for enemy unit within 100m) | 100 | |
| Destroyer of Eternities | Weapon | Rare | Weapon damage -40, Armour-piercing damage +40, Bonus vs Large +12, ability: Heroic Killing Blow | 200 | |
| Blade of Mourning Fire | Weapon | Rare | Melee attack +6, Armour-piercing damage +15, Weapon strength +12%, Enables flaming attacks | 200 | |
| Crook and Flail of Radiance | Weapon | Unique | Melee attack +8, Melee defence +8, Weapon strength +10%, Bound spell: Banishment | 300 | |
| Mortuary Robes | Armour | Common | Armour +2, Melee defence +2, Ward save +5% | 50 | |
| Skull Cap of the Moon | Armour | Common | Winds of Magic power reserve +5, Armour +3, Magic resistance +10% | 50 | |
| Shield of Ptra | Armour | Common | Melee defence +5, Armour +3, Missile resistance +20% | 50 | |
| Helmet of Khsar | Armour | Uncommon | Armour +5, Melee attack +5, Missile resistance +5% | 100 | |
| Armour of the Ages | Armour | Uncommon | Armour +10, Melee defence +6, Physical resistance +5% | 100 | |
| Armour of Eternity | Armour | Rare | Armour +10, Melee defence +4, Ward save +10%, passive ability: regeneration | 200 | |
| Armour of Dawn | Armour | Rare | Armour +15, Ward save +10%, Phys resist +10% | 200 | |
| Scorpion Armour | Armour | Unique | Armour +15, Melee attack +5, Phys resist 10%, passive ability: Scorpion Armour (22% Ward save when HP below 50%) | 300 | |
| Icon of Rulership | Enchanted Item | Common | Leadership +5, passive ability: Hold the Line! | 50 | |
| Potion of Foolhardiness | Enchanted Item | Common | | 50 | |
| Potion of Speed | Enchanted Item | Common | | 50 | |
| Elixir of Might | Enchanted Item | Common | Ability: Elixir of Might (+50% Weapon strength, +26 Melee attack for 36 seconds) | 50 | |
| Hieratic Jar | Enchanted Item | Common | Ability: Hieratic Jar (Replenishes HP for 33 seconds) | 50 | |
| Potion of Toughness | Enchanted Item | Common | | 50 | |
| Potion of Strength | Enchanted Item | Common | | 50 | |
| Death Mask of Kharnut | Enchanted Item | Uncommon | Melee defence +4, ward save +8%, Attribute: Causes terror | 100 | |
| Shroud of Sokth | Enchanted Item | Uncommon | Charge bonus +10%, Attribute: Stalk, Ability: Slippery | 100 | |
| Brooch of the Great Desert | Enchanted Item | Uncommon | Speed +6%, Magic resist +16%, Attribute: Vanguard deployment (character only) | 100 | |
| Ouroboros | Enchanted Item | Rare | Enables poison attacks, passive ability: regeneration | 200 | |
| Vambraces of the Sun | Enchanted Item | Unique | Melee attack +9, fire resistance +25%, Enables flaming attacks, passive ability: Vambraces of the Sun (-9 Melee attack, +22% weakness to fire for enemies within 40m) | 300 | |
| Sun Scarab | Talisman | Common | Fire resist +5%, Physical resist +10% | 50 | |
| Obsidian Pendant | Talisman | Uncommon | Magic resistance +20% | 100 | |
| Golden Eye of Rah-Nutt | Talisman | Uncommon | Charge bonus +20, Ward save +10% | 100 | |
| Golden Ankhra | Talisman | Uncommon | Armour +3, Melee defence +5, Ward save +10% | 100 | |
| Collar of Shakkara | Talisman | Rare | Melee defence +5, Ward save +15%, Phys resist +5% | 200 | |
| Amulet of Pha-Stah | Talisman | Unique | Armour-piercing damage +10, Ward save +20%, Ability: Amulet of Pha-Stah (-30 armor, -48 missile parry with shield for 22 seconds for enemies within 55m radius; 100m range) | 300 | |
| Scroll of Shielding | Arcane Item | Common | | 50 | |
| Scroll of Power | Arcane Item | Common | | 50 | |
| Blue Khepra | Arcane Item | Uncommon | Magic resistance +25% | 100 | |
| Neferra's Scroll of Mighty Incantations | Arcane Item | Uncommon | Ability: Neferra's Scrolls of Mighty Incantations (improved Winds of Magic power recharge rate for 22 seconds, improved power reserves within 40m; effect increases proportional to number of units within ability range) | 100 | |
| Scroll of Leeching | Arcane Item | Rare | | 200 | |
| Enkhil's Kanopi | Arcane Item | Rare | Winds of Magic power reserve +9, Magic resistance +10%, Ability: Enkhil's Kanopi (+66% Magic resistance within 40m for 24 seconds) | 200 | |
See also
[
]