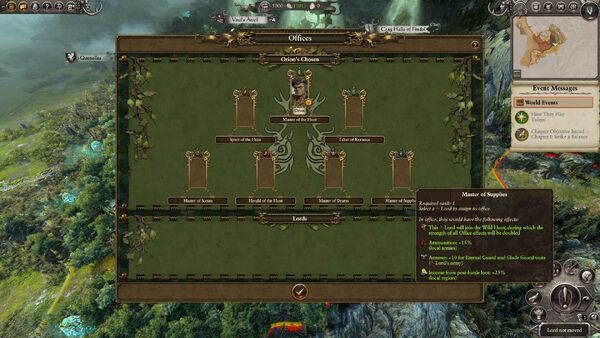 Orion's Chosen is a campaign mechanic for Talsyn which was introduced in The Twisted and Twilight Update for Total War: Warhammer II. It is one of the Wood Elves Offices variants.
It replaced the Forest Council from Total War: Warhammer.
How it works
[
]
Lords can be placed in positions among Orion's Chosen. The Orion's Chosen/Offices screen can be accessed via a button in the bottom right, while on the campaign map.
While the Wild Hunt event is active, the bonuses provided by each office is doubled. For example, Master of the Hunt increases income from razing settlements in the local province by +20% instead of +10%.
Offices
[
]
Master of the Hunt:
Spirit of the Hunt:

Leadership +5 for Dryads,

Treekin

and Treeman units (Lord's army)

Charge bonus

: +10 for Dryads, Treekin and Treeman units (Lord's army)

Talon of Kurnous:

Missile strength

+25%
Enemy Leadership -5 (local enemy armies)

Master of Scouts:
Herald of the Hunt:

Upkeep -10% for all cavalry units (Lord's army)
Public order: -4 (local enemy province)

Master of Drums:
Master of Supplies: