The Forge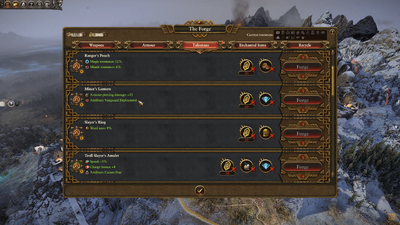 The Forge is a campaign mechanic for Dwarfs factions, which allows them to craft items using trade resources and a special resource called

Oathgold.
It is similar to the Mortuary Cult for Tomb Kings.
The Forge was added in the Resurgent Update for Total War: Warhammer II, so it is not present in Total War: Warhammer.
The Forge can be accessed via clicking the hammer and anvil icon in the lower right, while on the campaign map.
The Forge window contains several tabs, for each kind of item. Requirements for crafting each item are listed on the right. Clicking on a required trade resource will zoom your camera to the spot on the map which has that resource and is closest to your empire.
Items can also be recycled in the Recycle tab. This will unmake them and give you back the trade resources and some of the oathgold. Note that unique items can not be made again - if you recycle them, they are gone forever.
| Item name | Type | Rarity | Effects | Requirements | Set |
| --- | --- | --- | --- | --- | --- |
| Slayer's Axe | Weapon | Common | Bonus vs large +8, Charge bonus +18 | 30 | Slayer |
| Ranger's Hammer | Weapon | Common | Weapon strength +12% | 30 | Ranger |
| Veteran's Hammer | Weapon | Common | Melee defense +6, attribute: Expert charge defense | 30 | Veteran |
| Miner's Pickaxe | Weapon | Common | Armour-piercing dmg +15, Bonus vs infantry +8 | 30 | Miner |
| Prospector's Pickaxe | Weapon | Uncommon | Armour-piercing dmg +30, Enables sundering attacks | 90 | | Prospector |
| Ironbeard's Axe | Weapon | Uncommon | Weapon strength +12%, melee def +9 | 90 | | Ironbeard |
| Trollslayer's Axe | Weapon | Uncommon | Bonus vs large +24, Enables flaming attacks | 90 | | Trollslayer |
| Old Guard's Hammer | Weapon | Uncommon | Weapon strength +18% and Melee attack +12, vs Greenskins and Skaven | 90 | | Old Guard |
| Gatekeeper's Hammer | Weapon | Rare | Melee defense +12, Enables Frostbite attacks, passive ability: Chilling Aura (-36% speed for enemies within 40m) | 200 | | Gatekeeper |
| Dragon Slayer's Axe | Weapon | Rare | Bonus vs large +16, Weapon strength +12%, passive ability: Dragons Slayer's Axe (+15% AP dmg, +5 MA, +15% Weapon dmg when HP below 50%) | 200 | | Dragon Slayer |
| Ironwarden's Hammer | Weapon | Rare | Bonus vs infantry +16, Weapon strength +12%, passive ability: Ironwarden's Hammer (Perfect vigor when leadership above 50%) | 200 | | Ironwarden |
| Starbreaker | Weapon | Unique | Melee attack +6, Weapon strength +18%, attacks cause "Discouraged" effect, ability: Heroic Killing Blow (+40% AP dmg, +40% Weapon damage for 25 seconds) | 300 | | |
| Elfbane | Weapon | Unique | Magic resistance +20%, Enables magical attacks, Melee attack +14 and Weapon strength +28% when fighting Elves | 300 | | |
| Ranger's Cloak | Armour | Common | Melee defense +6, Missile resistance +5% | 30 | Ranger |
| Veteran's Armour | Armour | Common | Armour +14, Speed -10% | 30 | Veteran |
| Slayer's Bracers | Armour | Common | Speed +10%, Charge bonus +5 | 30 | Slayer |
| Miner's Helm | Armour | Common | Armour +5, Leadership +8 | 30 | Miner |
| Old Guard's Armour | Armour | Uncommon | Ward save +10% when fighting Greenskins and Skaven | 90 | | Old Guard |
| Trollslayer's Hide | Armour | Uncommon | Armour +7, Magic resist +15% | 90 | | Trollslayer |
| Prospector's Mail | Armour | Uncommon | Attribute: Stalk, Attribute: Snipe | 90 | | Prospector |
| Ironbeard's Armour | Armour | Uncommon | Armour +14, Fire resistance +25% | 90 | | Ironbeard |
| Dragon Slayer's Scales | Armour | Rare | Physical resistance +7%, Attribute: Causes Terror | 200 | | Dragon Slayer |
| Gatekeeper's Helm | Armour | Rare | Armour +7, passive ability: Gatekeeper's Helm (+11% Missile resistance, +22% Magic resistance for allies within 40m) | 200 | | Gatekeeper |
| Ironwarden's Shield | Armour | Rare | Armour +5, Melee Defense +12, passive ability: Ironwarden's Shield (+12% Ward save when HP below 50%) | 200 | | Ironwarden |
| Starmetal Plate | Armour | Unique | Armour +10, Melee Defense +15, Missile resistance +15%, passive ability: Starmetal Plate (-9 MA for enemies within 40m) | 300 | | |
| Alaric's Armour | Armour | Unique | Armour +35, Speed -15%, Ward save +20%, Attribute: Expert charge defense | 300 | | |
| Veteran's Flask | Talisman | Common | Melee attack +3, Melee defense +3 | 30 | Veteran |
| Ranger's Pouch | Talisman | Common | Magic resist +12%, Missile resist +6% | 30 | Ranger |
| Miner's Lantern | Talisman | Common | Armour-piercing damage +12, attribute: Vanguard Deployment | 30 | Miner |
| Slayer's Ring | Talisman | Common | Ward save +4% | 30 | Slayer |
| Troll Slayer's Amulet | Talisman | Uncommon | Speed +5%, Charge bonus +4, Attribute: Causes fear | 90 | | Trollslayer |
| Prospector's Charge | Talisman | Uncommon | Leadership +6, Physical resistance +5%, Enables magical attacks | 90 | | Prospector |
| Old Guard's Tankard | Talisman | Uncommon | Passive ability: Old Guard's Tankard (replenishes hit points when not engaged in melee) | 90 | | Old Guard |
| Ironbeard's Ring | Talisman | Uncommon | Fire resistance +15%, passive ability: Ironbeard's Ring (+22% weakness to fire for enemies within 40m) | 90 | | Ironbeard |
| Ironwarden's Wardstone | Talisman | Rare | Ward save +20% when fighting Chaos, Norsca, or Beastmen, Untainted +6 | 200 | | Ironwarden |
| Gatekeeper's Rat Catcher | Talisman | Rare | Bonus vs infantry +8, Magic resistance +15%, Weapon strength +12% when fighting Skaven | 200 | | Gatekeeper |
| Dragon Slayer's Fang | Talisman | Rare | Fire resistance +30%, passive ability: Dragon Slayer's Fang (+9 MD, +18 armour when HP below 50%) | 200 | | Dragon Slayer |
| Ring of Grimnir | Talisman | Unique | Melee attack +4, Weapon strength +10%, passive ability: Ring of Grimnir (+12 Leadership, +5 MA for allies within 40m) | 300 | | |
| The Ankor Chain | Talisman | Unique | Melee defense +6, Physical resistance +18%, Attribute: Immune to Psychology | 300 | | |
| Ranger's Broach | Enchanted Item | Common | Attribute: Stalk | 30 | Ranger |
| Slayer's Belt | Enchanted Item | Common | Physical resistance +5% | 30 | Slayer |
| Veteran's Gauntlets | Enchanted Item | Common | Armour +4, Melee defense +3 | 30 | Veteran |
| Miner's Drinking Horn | Enchanted Item | Common | Leadership +10 | 30 | Miner |
| Troll Slayer's Gauntlets | Enchanted Item | Uncommon | Bonus vs large +7, Melee attack +3 | 90 | | Trollslayer |
| Old Guard's Keg | Enchanted Item | Uncommon | Leadership aura size +15%, Leadership aura effect +4 | 90 | | Old Guard |
| Prospector's Spyglass | Enchanted Item | Uncommon | Passive ability: Prospector's Spyglass (+18% accuracy for allies within 40m) | 90 | | Prospector |
| Ironbeard's Bracers | Enchanted Item | Uncommon | Passive ability: Ironbeard's Bracers (+33% physical resistance, +12% speed for 33s when losing melee combat) | 90 | | Ironbeard |
| Ironwarden's Tankard | Enchanted Item | Rare | Passive ability: Liquid Fortification (replenishes HP), attribute: Immune to Psychology | 200 | | Ironwarden |
| Gatekeeper's Belt | Enchanted Item | Rare | Passive ability: Gatekeeper's Belt (+33% Ward save when HP below 20%), attribute: Unbreakable | 200 | | Gatekeeper |
| Dragon Slayer's Boots | Enchanted Item | Rare | Speed +5%, Charge bonus +5, Melee defense +4 | 200 | | Dragon Slayer |
| Sceptre of Stone | Enchanted Item | Unique | Melee attack +4, Ability: Sceptre of Stone (magical bombardment; good vs a single unit, weak vs single combatant) | 300 | | |
| Horn of the Ancestors | Enchanted Item | Unique | Physical resistance +5%, Ability: Horn of the Ancestors (Summons Ancestral spirit) | 300 | | |